We are known as manufacturers of Industrial Ovens and are widely used for any typical drying, heating, baking, ageing and curing in various industries associated with surface finishing industries. They operate at extremely high temperatures and can be used for both small or large volume applications. Industrial Ovens solution offered comprise standard as well as custom thermal processing systems that can be made available in different configurations and can also be upgraded and configured using latest technology support as per the specific requirements of the clients.

Features Of Our Ovens

Walls and roof comprised of galvanised steel plates
Rockwool installation.
Our advanced design and high quality manufacturing process leads to remarkably low running costs.
Powerful centrifugal fans and our patented high volume internal duct system allow highly efficient running and give an even heat throughout.
Our ovens are precisely controlled. This allows accurate cure timing and helps improve fuel efficiency.
High Quality burners - tried and tested over many years.
Internal escape mechanism.
Our Elite Finishing System manufacturing plant produces heavy duty ovens designed and built to long last.
Our Products are in knock down condition for easy transportation and installation.

Converized Oven
Converized Oven (Elevated)
Batch Type Oven
Batch Type Oven (Conveyor Optional)
Elevated Oven
Diesel Fired Oven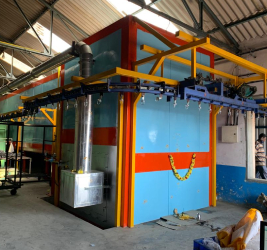 LPG Gas Fired Oven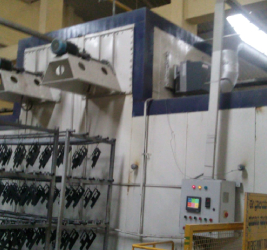 Batch Type Oven